Ash
The common ash tree (fraxinus excelsior) is a widely occurring broadleaved species and can grow to be very large, 20 - 30m tall with a very wide spread. Older trees have a greyish brown bark with deep cracks.
Younger trees have a silvery, grey stem.
The trees are one of the last to come into leaf in the spring and amongst the first to lose their leaves. The buds are a very distinctive black, with flowers which appear in April near the tips of the twigs.
The sex of the plant is very complicated. You can read all about it in Eva Wallanders' Phd!
The leaves are pinnate, a central stem with 9 - 13 leaflets.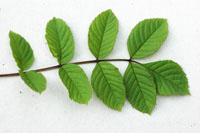 Further reading:
Silviculture of Broadleaved woodland
J Evans
FC bulletin 62
(all photos used with permission from Malvern coppicing, treeblog and woodlands.co.uk)
Add your comment